Weight: 40.0 lb
Do you like a 2 for 1 deal? We do too. We developed this feed with that in mind. SWEETSTUFF is a natural concentrated attractant and one of the best supplemental feeds on the market. SWEETSTUFF contains a base of roasted peanuts, which have a strong aroma enriched through our roasting process. Peanuts are also a great natural source of protein and fat. SWEETSTUFF has 18% protein, 12% fat, and vitamins/minerals like no other feed on the market. We use SWEETSTUFF for early-season trail camera surveys, through the season as an attractant, and during the Spring and Summer as a supplemental feed in trough style feeders. We like SWEETSTUFF because you aren't only attracting deer, you are investing in your herd's health for future success.
Regular price
Sale price
$26.99 USD
Unit price
per
Sale
Sold out
236 available for purchase
View full details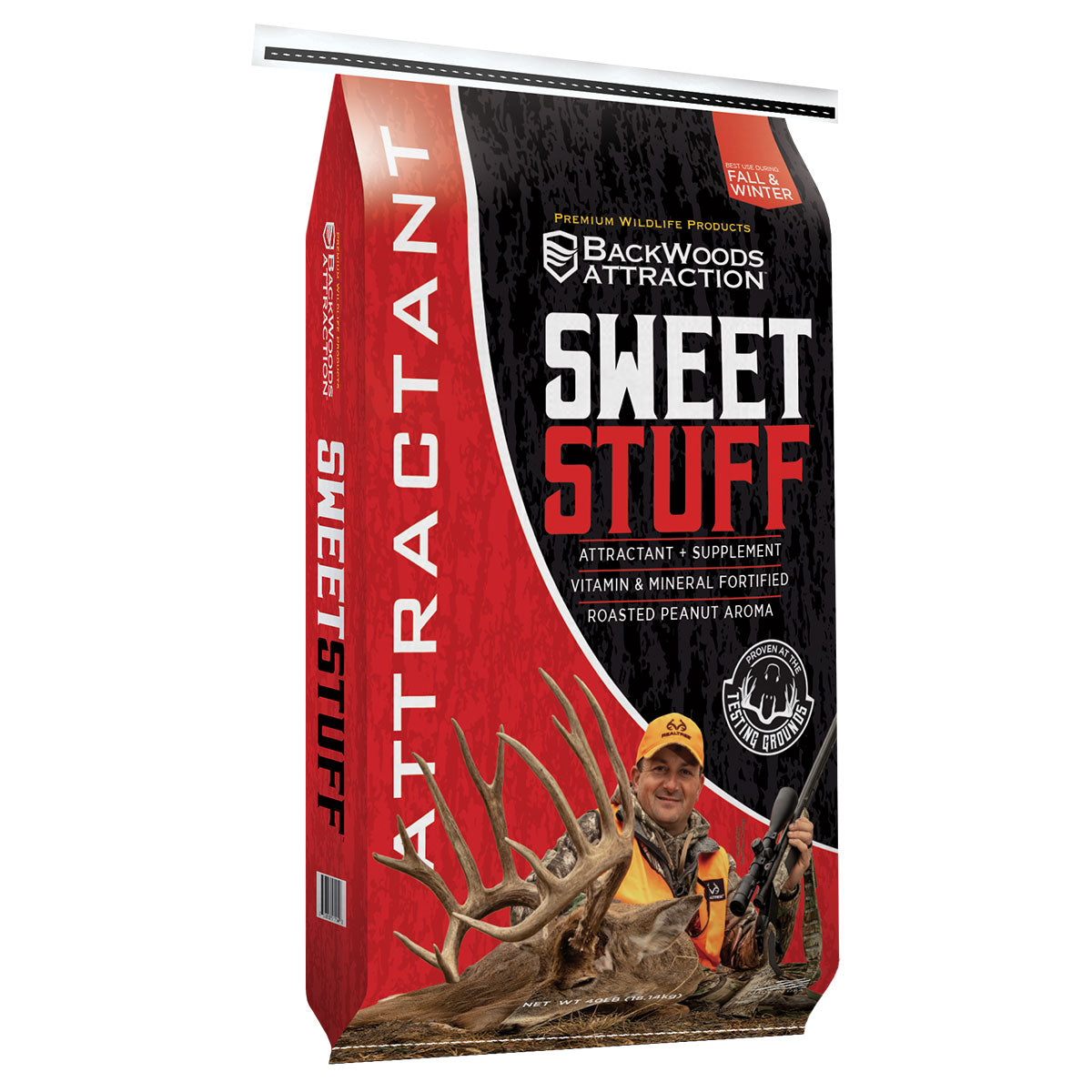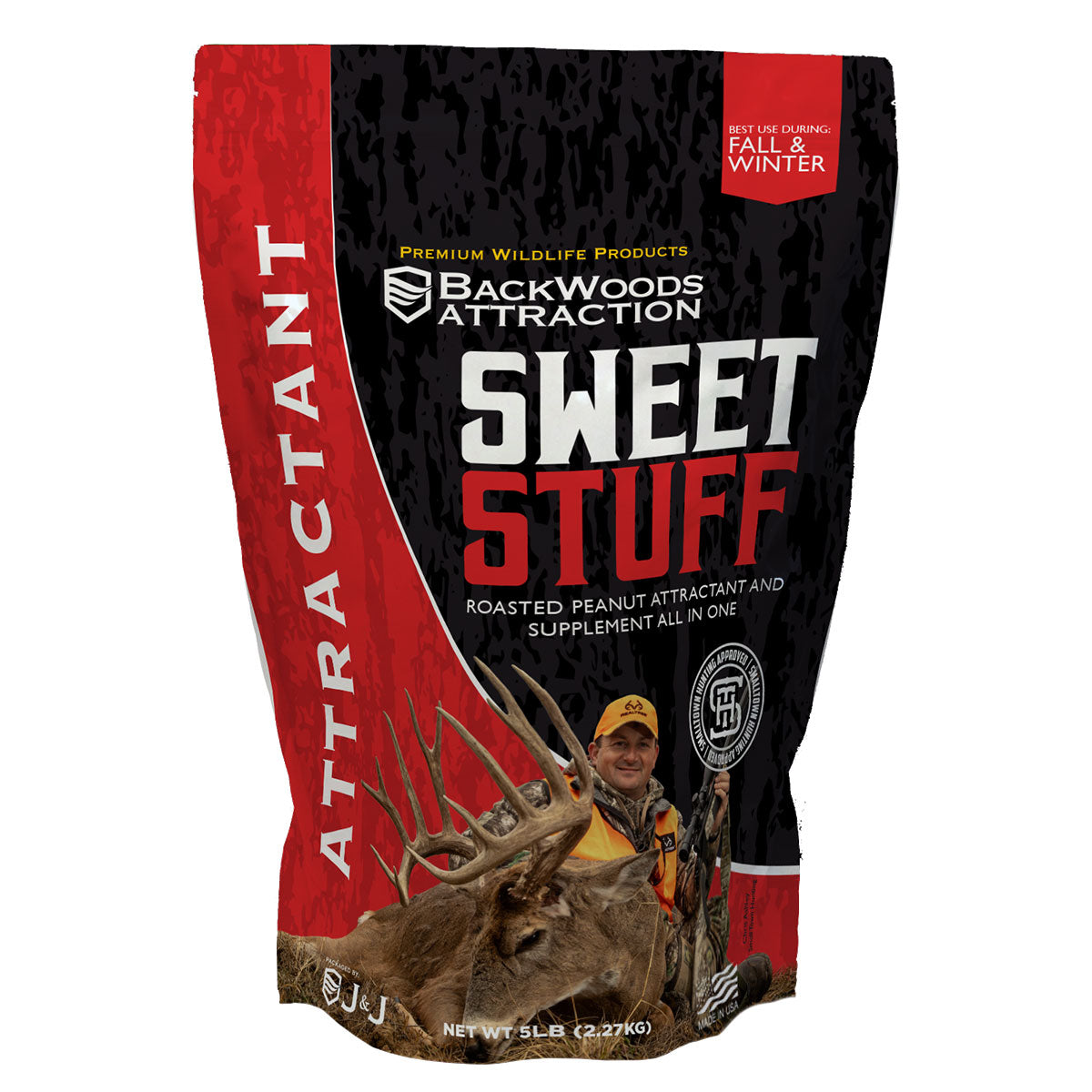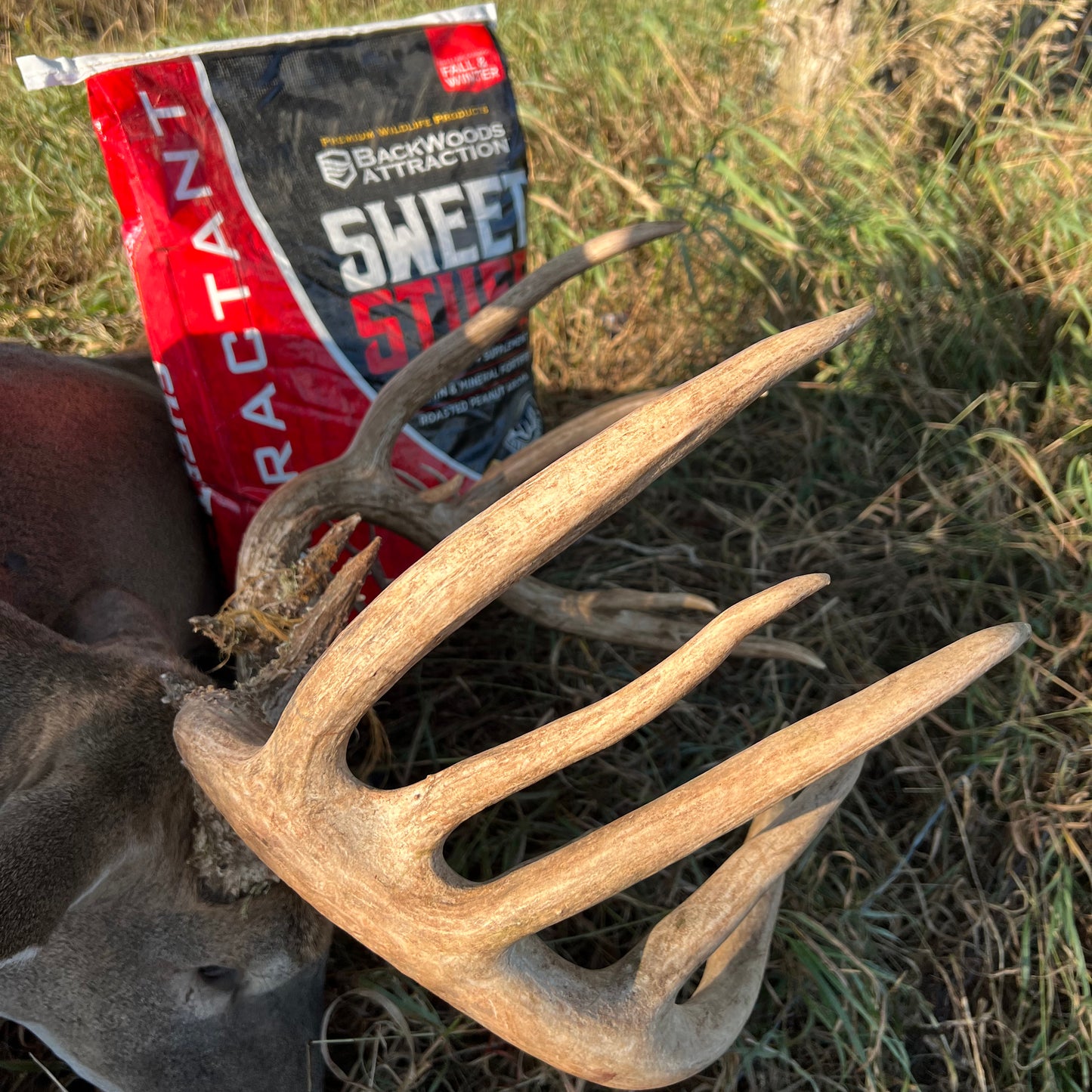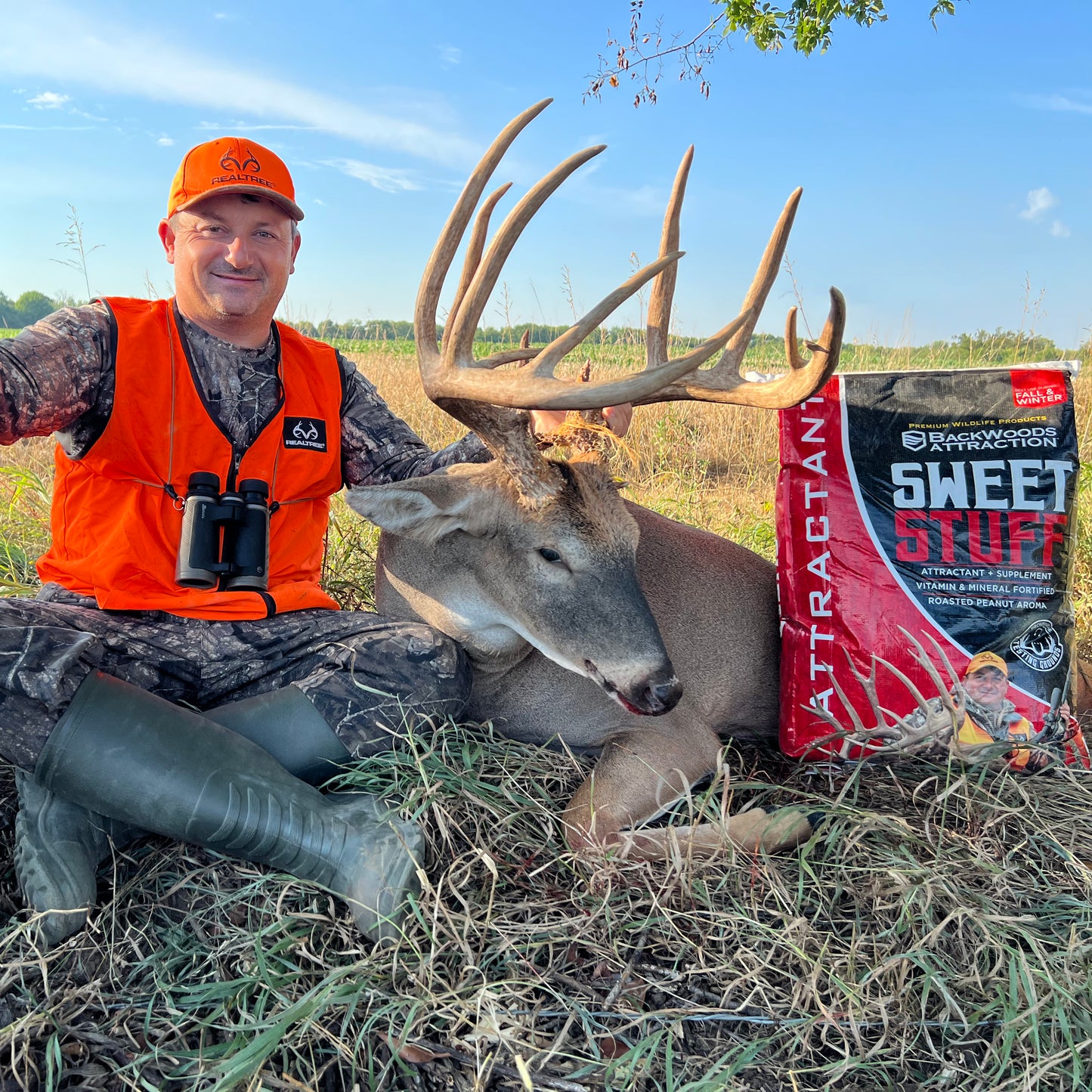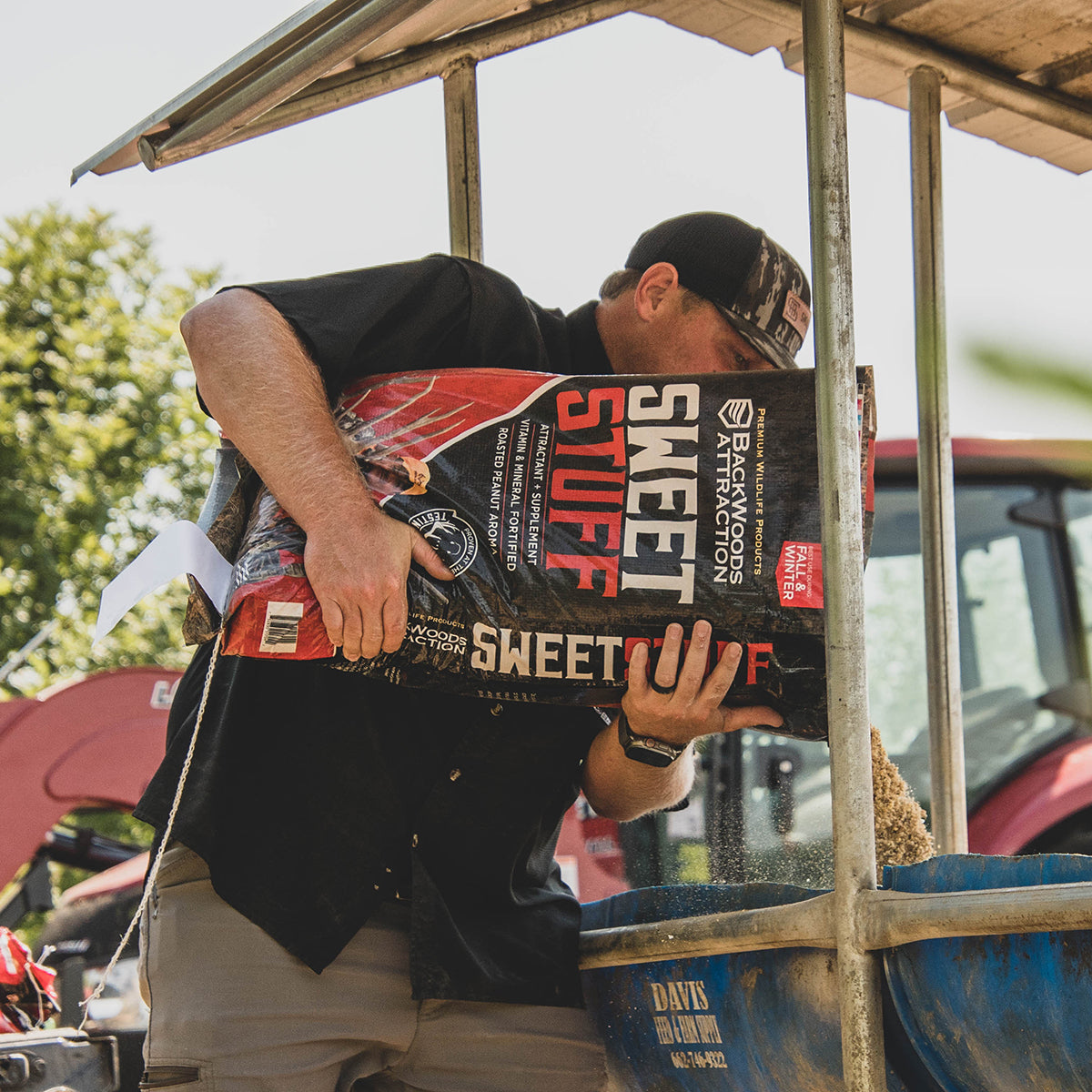 • 2 For 1 Attractant And Supplement
• Delicious Taste And Smell
• Increases Buck Activity
| | | |
| --- | --- | --- |
| | Min | Max |
| Crude Protein | 18.0% | |
| Crude Fat | 12.0% | |
| Crude Fiber | | 9.0% |
| Calcium | 1.0% | 1.5% |
| Phosphorus | 0.95% | |
| Potassium | 0.90% | |
| Magnesium | 0.40% | |
| Sulfur | 0.21% | |
| Salt | 1.0% | 2.0% |
| Copper | 20PPM | |
| Zinc | 70PPM | |
| Manganese | 80PPM | |
| Selenium | 0.30PPM | |
| Vitamin A | 5000 IU/LB | |
Processed grain by-products, grain products, plant protein products, vegetable oil, molasses products, calcium carbonate, calcium phosphate, salt, zinc oxide, manganous oxide, ferrous sulfate, magnesium oxide, copper sulfate, cobalt carbonate, ethylenediamine dihydriodide, calcium iodate, sodium selenite, vitamin a acetate, vitamin d-3 supplement, vitamin e supplement, acetic acid, ammonium hydroxide, magnesium silicate, sodium aluminosilicate, bentonite, [ethoxyquin, propionic acid, sorbic acid, tertiary butyl hydroquinone (preservatives)].
Sweet Stuff is designed to supplement natural forage and browse for deer to provide protein, energy, minerals, and vitamins necessary for growth & development, pregnancy, lactation, and antler growth. This feed can be fed free-choice in appropriate feeders or in measured amounts on the ground and should be used in accordance with local wildlife laws and conservation programs. Feeding amounts will vary depending on where the deer are in their production cycle and forage availability/quality. During late pregnancy, lactation, and antler growth, deer may eat from .75 to 2.00lbs per head per day. Keep feed fresh in cool, dry storage. Do not use feed that is old, damp, molded, or insect contaminated.
Sweet Stuff
Some of the best attraction a feed on the market The sweet smell an aroma will bring in those bucks an hold them there. Try u some an your deer will love it A great two in one product
Sweet!
Sweet stuff is truly one of the best ! Love it
My favorite attractant
Sweet stuff is an awesome product! My herd has been killing it!
Sweet Stuff
This is an awesome attractant. Deer love the sweet stuff. They can smell it from a great distance. Not only will it attract them, it's full of good stuff they need to keep them healthy.