Weight: 40.0 lb
Cottonseed has become a popular protein source for deer over the past few years. It is high in fat and oils, is high in digestibility and protein, and little else will eat it such as raccoons, feral hogs, and most birds.  It increases weight gain and body condition quickly, especially in post-rut stress periods. Our blend of cottonseed, triple cleaned corn, LickNGro minerals, FlameKissed soybeans, and sunflowers will have your deer walking through HI-COTTON.
Regular price
Sale price
$21.99 USD
Unit price
per
Sale
Sold out
231 available for purchase
View full details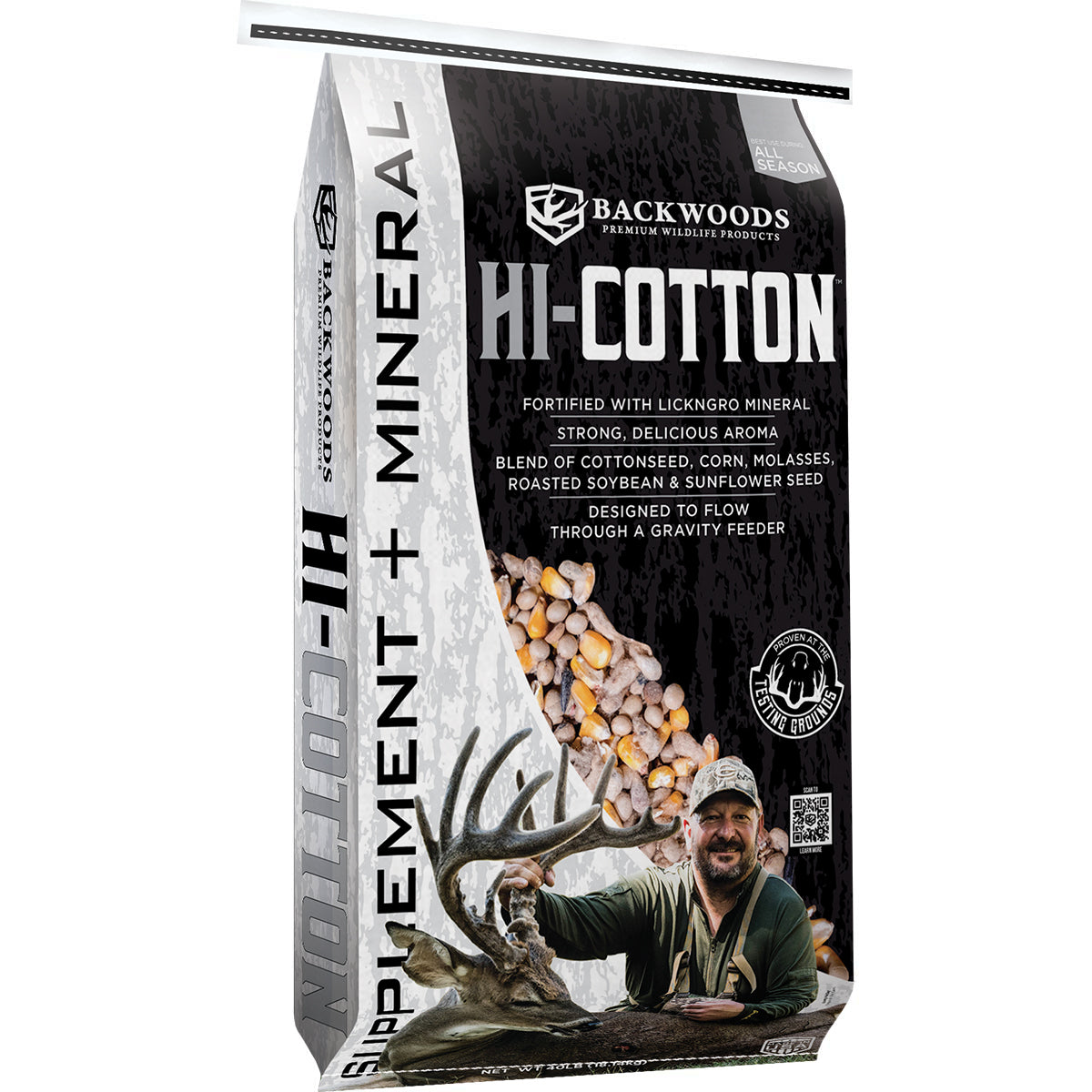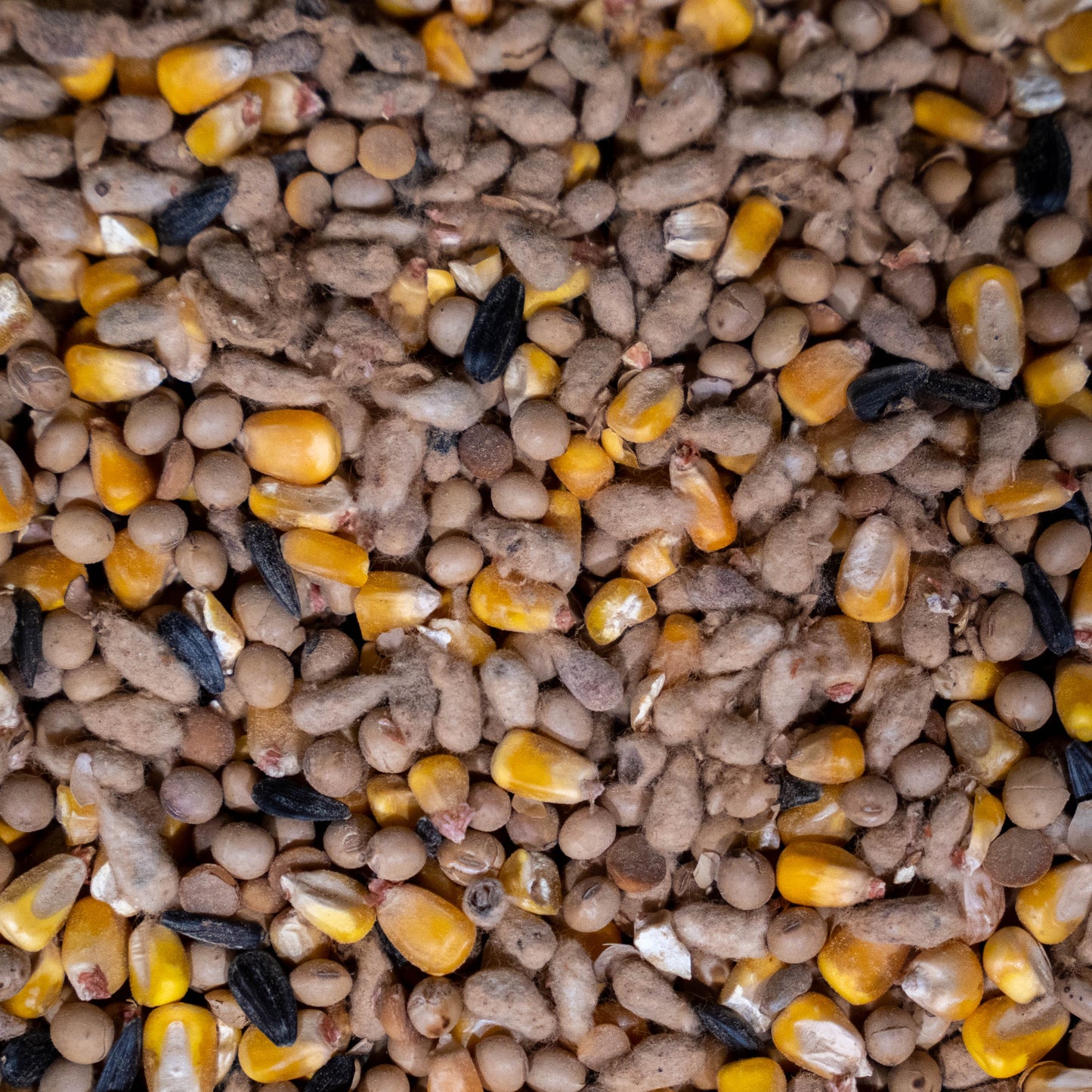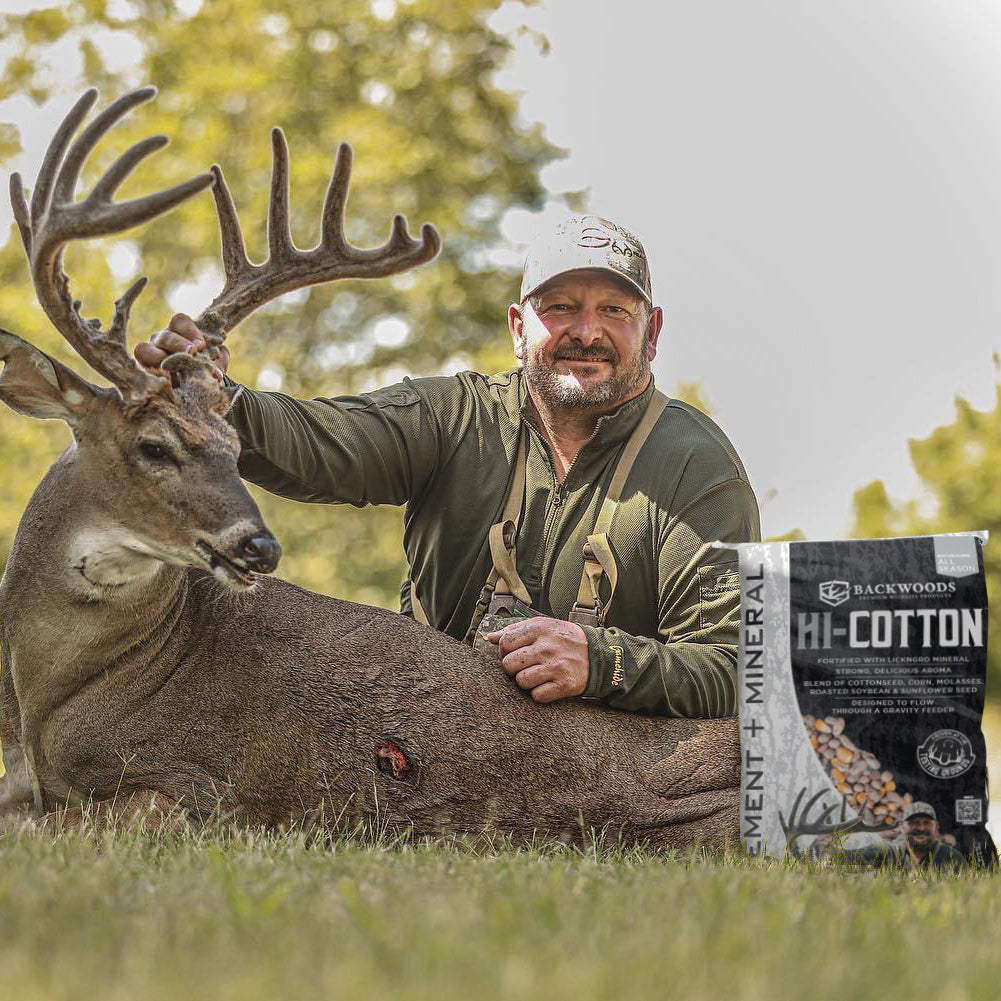 • Fortified With LickNGro Minerals and Vitamins
• Strong, Delicious Aroma
• Cottonseed Is Rich In Protein And Fat
• Less Attractive To Raccoons and Hogs
| | | |
| --- | --- | --- |
| | Min | Max |
| Protein | 20% | |
| Fat | 10% | |
| Fiber | | 10% |
| Salt | 0.01% | 0.04% |
| Calcium | 0.01% | 0.02% |
| Phosphorus | 0.10% | |
| Potassium | 0.15% | |
| Magnesium | 0.01% | 0.02% |
| Copper | 3 ppm | |
| Selenium | 0.26 ppm | |
| Zinc | 15 ppm | |
| Vitamin A | 1200 IU/lb | |
| Vitamin D3 | 500 IU/LB | |
Grain products, plant protein products, molasses products, processed grain by-products, monocalcium phosphate, salt, calcium carbonate, magnesium oxide, vegetable oil, manganous oxide, manganese sulfate, zinc oxide, zinc sulfate, copper sulfate, selenium yeast, brewer's dried yeast, ethylenediamine dihydroiodide, calcium iodate, cobalt carbonate, vitamin A supplement, vitamin D3 supplement, vitamin E supplement, mineral oil, artificial flavoring.
Hi-Cotton is designed to supplement natural forage and browse for deer to provide protein, energy, minerals, and vitamins necessary for growth & development, pregnancy, lactation, and antler growth. This feed can be fed free-choice, or in measured amounts on the ground or in appropriate feeders and should be used in accordance with local wildlife laws and conservation programs. Feeding amounts will vary depending on where deer are in their production cycle and forage availability/quality. During late pregnancy, lactation, and antler growth, deer may eat from .75 to 2.00lbs per head per day. Ensure that fresh, clean water is available at all times. Keep feed fresh in cool, dry storage. Do not use feed that is old, damp, molded, or insect contaminated.
I will be buying more. The deer on my lease had it gone within a day.
Best Around!!
Everything you need is all in this one product! Great smell, great balance of protein and great results! Works like a charm!
Great Stuff!
The new HI-COTTON is some great stuff! Not only do the deer love it... the wild hogs and raccoons don't care for it very much so more feed gets to the deer. High protein % and has plenty of essential minerals and vitamins to help those bucks reach their full potential and to keep the mama does fat and happy to give off plenty of milk for the upcoming fawning season.
Growing some Bone!!!
Awesome product to pump the protein back in em. I can't wait to see the velvet horns this summer!!!
Hi Cotton!
Just introduced my deer to Hi Cotton in all my feeders and they love it. This will be a crucial part in my deer management with it being 20% protein I know I am giving the deer what they need. Hi Cotton I love it